Wisteria Lane Finally Integrates. Sort Of.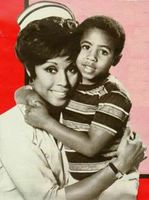 Pop quiz. Tell me the name of this hit television show: A single black mother is trying to raise her son. She moves to the suburbs to give her boy a quality education and life. Would you say this was
Julia
, starring Miss Diahann Carroll in 1968?
No. Try
Desperate Housewives
next season.
Variety
reports
Alfre Woodard
will join the hit series as a
regular cast member
. Woodard's character will be introduced on the season finale, a single mother who moves to the neighborhood with her son. The boy's father is out of the picture.
First, there's relief that ABC's programmers have finally decided to integrate the hit show. But integration is never equality, and tokens are even more irritating. At best, the concept to integrate Wisteria Lane is derivative and un-original.
At worst, it's politically expedient: If Alfre Woodard's character were married, the husband would undoubtedly have some sexual tension with his neighbors. That would never work—remember the outrage after
the last time
a Desperate Housewife
appeared with
a
black man
?
The role would become the four-time Emmy winner's first recurring television arc in almost twenty years. The last role was quite delicious, from '85 to '87 on NBC's
St. Elsewhere
as Dr. Roxanne Turner. Right now, you can catch Alfre at the cineplex as a poetry-spouting hairstylist in
Beauty Shop
.
Please let Alfre be a widow. If she was never married or her husband left her, the programmers in Century City need a serious reality-check.
So here's the bonus round of the pop quiz: Will Alfre's character be an asexual, Oprah motherly type who dispenses advice with sweet potato pie? Or, will she be a nubian temptress to entice the husbands?
I'm betting on the first. Or maybe if we'll see an inter-racial lesbian stortyline here ...
Alfre Woodard Joins Desperate Housewives: Entertainment Weekly
Monday Night Wardrobe Malfunction Football: brotha2Brotha