Brand New Flava in Your Ear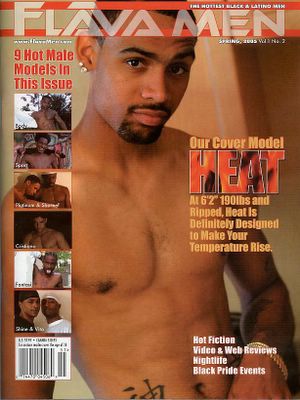 Photos via Flavamen.com

You've seen me on the streets and in the clubs of New York City, biking along Chicago's lakefront or in DC and ATL during Black Gay Pride. Some of you have even seen me behind the scenes in television newsrooms. But here's somewhere new to find me: the phat and fierce new issue of Flava Men.

Nope, I'm not taking it off—but writing a regular column. Turn to page three of the new Spring 2005 issue and learn the "8 Simple Rules of Dating a Stripper."

Luckily, it's at the very front. Finish the article, and then you can dive into the hottest new magazine featuring brown and black men. Here's an exclusive peek into the brand new Flava Men:

This is the magazine's sophmore issue, and it's come a long way, baby. Ninety glossy pages that cater to lifestyles, websites, events and men. Many, many gorgeous young men. Count on
nine fresh faces
in this issue, including cover boy
Heat
. He's got it, alright ... including a smile that could melt a glacier and (sigh) tats on abs. Why do I always fall for that?
Flava Men
is produced by the same company that brought you
Cocoboyz
and the go-go boy "big brother"-style
Cocodorm
. They're probably the leaders in providing hot, fresh Blatino faces. It's a buffet of flavaz ... from young tenderonis to strapping brothaz who look fresh outta Rikers. Hmm. Y'all know that's what I'm talkin about.
Had to save the best for last, right?

The glossy is hot-ta-def. The photography is crisp and tantalizing. The photosets are all-original, unlike some of the other mags. There are behind the scenes peeks at photoshoots and videos and interviews with most of the models; several of the hot boyz also double as correspondents. Besides cover model Heat, look for the delish spread on chiseled ebony go-go god Body who was profiled on these pages in February.

The glossy is $7.95, but for less than double that price you can join FlavaMen.com. Have complete access to all of the photoshoots and see your fave boys in high-resolution, vivid color and action.

For the complete experience visit:

Flava Men