Set Up?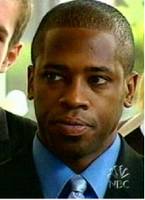 "I would define success as getting done exactly what you set out to get done without compromise - not an easy thing to do. "
That's how
Kevin Allen
from
NBC
's
Apprentice 2
describes success. When I started this blog last month, I
wrote
how much I admired him, and wished him the best for the show, and his endeavors. Oh well, it was fun while it lasted. Last night, Trump unceremoniuosly fired him because he wasn't sure which direction Kevin was going with his career.
You're not the only one laughing. Let' see, what do we know about Kev?
Obviously he's smart--a law student at my alma matter,
The University of Chicago
, and Penn's
Wharton School of Business
. He and his brother started a software company. Kevin also considered becoming a pro football player, at one point. On a personal tip, he's engaged (sigh), and in his spare time, reads, works out (duh), likes hip hop, jazz, and the beach. I think he's been a standout contender, a great team player, and was a hands-on project manager earlier this season.
Any other reasons why he could have been fired last night? Oh, yea, that reality show rule that says blacks never win.
I was hoping beyond hope that Kevin would have a fighting chance, and vindicate last season's upset with
Kwame
and Bill. It just wasn't to be.
Interesting that
Kelly and Jenn M. are The Apprentice 2's final candidates, as predicted by bettors.
Back in September, a betting site said the two would be the final candidates. An unusual number of bets were places on those, and the site mysteriously stopped taking wagers. I'm not necessarily saying it was a set-up, but read
Reality Blurred
for more.