Stripe It Rich!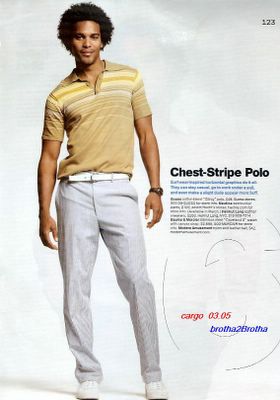 More summer fashion from yesterday's Adidas hottie.
Yesterday he was bold in black and white track suits. Today, warm splashes of color in beach-inspired ensembles.
The
Guess
chest-striped polo is lightweight yet functional: sportswear, office casual or fun. At $49 it's a decent price, but you could probably get something very similar (but cheaper) at H&M, Target or Century 21. These are summer faves for me: this year, brown, beige and other earthtones are the hot colors.
The
Nautica
seersucker pants are summer favorites. Stripes are look brilliant if you're slim or toned, so they're not for everyone.
But funky kicks work for all, and these leather
Helmut Lang
sneakers are on my list. Haven't seen anyone sporting these yet but the model ...
His name is
DIN
. Thanks to
David
for the heads up.