At the Movies: Beating the Drum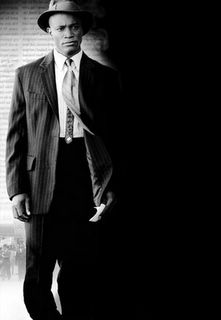 DRUM
South Africa (2004)
96 Minutes, color
Director:

Zola Maseko



Cast : Taye Diggs, Jason Flemyng, Gabriel Mann, Tumisho Masha, Moshidi Motshegwa, Tanya Baleson
One of the perks of working in media is the
review copy
. Advance copies or galleys of books, promotional CDs, early magazine editions, film and television clips...all are sent by publicists to newsrooms across the country, hoping for placement.
Another industry perk is the
screening
or
advance copy
, often limited to
DGA
,
SAG/AFTRA
, or
WGA
members. It's fun to attend premieres or free lunch-time screenings, and see the likes of Janeane Garofalo, John Lithgow or Margaret Cho. But even more fun: receiving the DVD in the mail—usually around awards time—labeled "
for your consideration
."
Zola Maseko
's
award-winning film
Drum
was of the latter category, arriving recently in a plain brown wrapper. The film doesn't need fancy wrapping, or any bells and whistles. It's an impressive drama, already the toast of the indie circuit.
Last weekend
, South African director Zola Maseko won the top prize at Africa's premier film festival, Fespaco 2005, held in Ouagadougou,
Burkina Faso
.
The period film is based on a true story. The time is the 1950s. The place: Johannesburg's Sophiatown district. Young magazine reporter Henry Nxumalo (Diggs) works hard and plays even harder while writing for the historic black magazine
Drum
. Apartheid is rapidly spreading across the country, even into Sophiatown, whoee jazz clubs and beatnik bars are the last bastion interracial chic.
Initially Nxumalo is on the features beat, covering sports and society events. Soon he is investigating political corruption and the growing apartheid machinery. Obviously, the white minority fascist regime is not pleased with his exposés; the reporter's life and work are in jeopardy.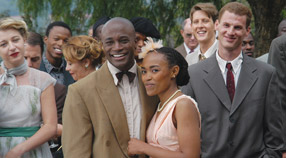 The film also was well-received at Sundance
. It boasts a delightful supporting cast, including Moshidi Motshegwa (above, with Diggs). It's a dark portrait of Johannesburg in the early years of apartheid, contrasting indulgence against injustice and violence.
But no film is perfect; moreover, with such a serious subject matter, it's difficult to find problems. There are several. First, the casting: Diggs is a strong actor, and a great choice to market the film overseas and in the states. But he is an American in a distinctively African film, and overcompenstates by a using a
very
bad accent. At times he sounds like he's Jamaican, back with Stella
getting his groove
; other times, it's worst.
That's only a superficial slight. There are other structural issues, to be expected in a biopic. Who was Henry Nxumalo? How did he come to
Drum
? What was his legacy? The magazine's? Many of these questions are glossed over, as we are rushed into the far superior final act. It's a fine film, but keep in mind the screenplay was helmed by Jason Filardi—his last movie was Queen Latifah and Steve Martin's
Bringing Down the House
.
But none of these complaints should detract from the film's message or hopefully it's impact. Maseko labored for ten years to bring this movie to fruition, and despite it's few shortcomings, it definitely should be seen. At Fespaco 2005,
Maseko was awarded
the
Etalon d'Or de Yennenga
, or Golden Stallion of Yennenga, and a cash prize of 10m CFA francs ($20,000) at the close of the week long film festival.