Soundbytes: The Envelope, Please
ABC Entertainment/AMPAS
Video captures via Jimmy/Austin
MEMORANDUM


TO: The Academy
FR: Me, a Non-Voting
WGA
-East Member
DT: 28 February 2005
RE: Black African American People

After 77 years, thanks for discovering us!
Next year, please don't over do it. The key is not to pretend that you're being hip. Just don't be exclusionary.
Now with that being said, let's go on with the show.
"Sit your asses down!"
Chris was doing the damn thang, wasn't he? The
AMPAS
wanted an edgy comedian to tap younger demos. I'd say Chris Rock'd the
Dorothy Chandler
Kodak Theatre, no?
Survey sez ...
YES
. Chris Rock boosts Oscar ratings to a five-year high,
Variety
reports. The
pre-Oscar
fears of a black
planet
host were alarmist; I have to say,
I told you so
.
Rock's tone was accomodating yet off-the-cuff. Early on, he took aim at the usual suspects—Jack Nicholson, Russell Crowe. No big deal, everyone always talks about them.
The acid-tongued comedian drew some of his biggest laughs with jabs aimed at President Bush, the involuntary star of Michael Moore's biting documentary "Fahrenheit 9/11." That film was shut out of the Oscar competition—basically because Moore and Miramax insisted on campaigning for a
Best Picture
nomination, as opposed to
Best Documentary
, the logical category—and was breaking box office records at the time Bush was running for re-election.
Chris' comparison
of Bush's job performance to a Gap clerk was hilarious. "Can you imagine closing your register and finding that you are $70 billion short? And then ask for a raise?"
Rock's ghetto-fab jokes weren't so bad; actually some were quite good. Normally, it's irritating to see black comedians mine the race field, especially to primarily white audiences. But his monolgue was clever.
"Black movies don't have real names," he said. "They get names like
Barbershop
. That's not a name. That's just a location.
Barbershop, Cookout, Carwash
... you know
Laundromat's
coming soon, and after that,
Check-Cashing Place
." Tru dat, Chris was right.
But Chris was wrong on his skit at Magic Johnson Theatres. Sure, the Academy is often stodgy and out of touch with the
hoi polloi
.
But going down to Crenshaw to get "sound" from the brothaz and sistaz, who are hyping
Riddick
?
The
Albert Brooks
ending was unoriginal. Oh well; seeing that
Spanglish
was given
no consideration
by the academy, Brooks needed some schtick to appear on-screen.
He's been acting for almost 40 years, has portrayed everyone from
the president to God
(no George W, they are not one and the same), but Moragn Freeman had to wait until last night to be Oscar.
Morgan Freeman's win made my heart soar. He was so endearing as the Easy Reader on
The Electric Company.
Freeman's been nominated four times; he should have won it some time ago, for
Driving Miss Daisy
in 1989 or five years later for
Shawshank
.
Freeman is fabulous at 67. Even more stunning was his presenter,
Salli Richardson
Halle Berry. But let me ask: was Chris joking about
Catwoman 2
? She gave him that
get over yourself
.
Beyonce's To-Do List
1. World Domination?
2.
Sing all nominated Academy Award songs
3.
Worldwide Pepsi Commercial
4.
Svengali-like boyfriend
5.
Catapult to Superstardom
All jokes aside, but does anyone realize that Beyonce has appeared on these pages exactly
ONE TIME
before? Should I turn my card in? Not my
your second quarter dues are overdue
WGA card, nor maxed out credit cards or the well-worn metrocard ... but my GBM card. Okay, time to gush:
Beyonce's rendition of
Look To Your Path
from "
Les Choristes
" ... well, let's talk about how she looked.
Fab.U.Lous. The camera angles were quite complimentary, the choral arrangement impressive. And mind you, I'm not a huge fan. But it's hard not to admire her beauty. BTW, who is doing her makeup—God? She's flawless.
Now, back to
Look To Your Berlitz French in Five Minutes Path.
Her range is incredible; she had some problems with
le Francais
, and the jokes are coming. At one point, one of the little boys looked at her with an expression that could best be described as ...
WTF?
confused. Beyonce's no
Liza
Barbra—well, some even say that today's
la Streisand
is no Barbra, either—but for better or worst, she's my generation's next best thing. Her performance was as good as any non-classically trained
pop superstar
singer.
Mrs Jay Z
Miss Knowles performed three of the five tracks that were nominated for the best song. Polar Express'
Believe
and
Learn To Be Lonely
from
Phantom
were the other two
.
On the latter song, she was accompanied by
Phantom
's Andrew Lloyd Weber. That was a classy touch, seeing the two of them together. I'll have to keep that memory in mind when I see B perform with Kanye.
"That son of a ...."
Sofia Okenedo is having a great time, but co-star Don Cheadle wasn't. Everyone knew that it was Jamie's night—even
Ray Charles
Helen Keller saw that one coming.
Was Cheadle slighted because his performance was dramatic and well-written in an art-house movie? Jamie's role was good; certainly not great. We're talking about a bio-pic about a famous (blind) singer; that's instant Academy Award buzz right there, regardless of subject. My thoughts: if anyone deserved nomination from the movie, that would be Miss Regina King.
Jamie accepted the award and my first thought was, don't do the Ray Charles thing. But of course, he did, and the
largely Bel Air and Beverly Hills
audience responded ... lukewarm, shall we say.
Second thought: my, that speech is shorter than expected.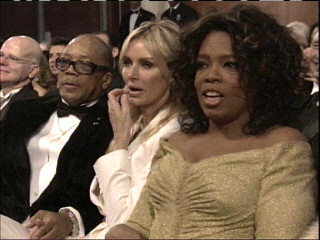 One of these things doesn't belong with the others
Then came the obligatory cutaway to the
few other black faces
usual suspects.
But the directors were smart.
Let's sit all the black folks together so we can find them easier!
Next year: Beyonce performs all the songs in a three minute medley!