iCandy: Ngo Calendar
At the southwest corner of Grove and West Fourth Streets, kitty korner to the Monster, and above the 1/9 subway station at Christopher, there is sliver of sidewalk and a bank of payphones.
On warm days and nights, the children stand here and people watch. It's all about who will walk the "runway" west on Christopher, what models or porn stars are out, was that Mary J. Blige on her way to the
Pink Teacup
, or the Olsen twins grabbing java at the Starbucks across the street.
On some weekend mornings,
Ngo
will set up shop and sell his calendars here. The first time I saw him—up close and personal, not 15" and XGA display—was one such time. An early Saturday morning last year, I was at the fluff and fold on Hudson and walked over for coffee. There he was, smiling, glistening in the sun, his musculature so defined he reminded me of Robocop. (That was also a nickame for two of my ex's, but that's another story.) Naturally, I had to chat him up, and buy six or seven calendars.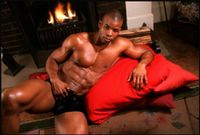 Summer was upon us, so the calendars were months old. He was selling them for a donation, so I wanted to do my part. Do you blame me? Look at the
photos
; calling him stunning would be an understatement. But he's a great guy, we've spoken several times.
Ngo is short for Ngoli, which means joy in Ibo. He was born in the US, raised here and in Nigeria. He later returned to the states for college, graduated, and began a career in computer-assisted design. But there was a snag in the road.
The desire for life in a bigger city led me to take a job working for another computer company in New York City. Unfortunately, before I could really settle down and enjoy my new job, I was laid off.
You know what happens: one door closes, another opens. Ngo's looks, physique and charisma segued him into the moeling industry. Undoubtedly, you've seen this man, possibly in
the MAC ads
with Mary J and Lil Kim, or in layouts in
Vibe, Vogue
or the
Source
. He's also done commercials, including a Chili's
campaign
with Evander Holyfield.
Photos via
NGO
The 2005 NGO Calendar