iCandy: Ty Me Up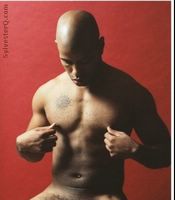 For years, one of my best friends has been a
Ty Lattimore
fanatic
. He buys all of Ty's movies, collects as many pictures as possible, any magazine layouts … once, he even wrote to the porn star at
Black Inches
. The letter was answered in abridged form—it was one of those "fantasies"—and of course, we never stopped hearing the end of
that
.
The Atlanta-based porn star and I have been friends for several years. Last week, he and I talked on the phone and through IMs about his directorial debut, those crazy Lloyd Banks rumors…and how he began in adult films.
Ty Lattimore: It just happened nine years ago, I was modeling while in college. To make a long story short—I did a few nude layouts and artistic photos for some photographers. Later, I was approached by a California film company.
Rod: Had you ever thought about doing this before?
Ty Lattimore: Not at all. I love porn but never thought I was the right "type."
Rod: Why is that?
Ty Lattimore: I'm self-conscious. I hate my pictures and don't watch my videos. But now, since I am producing I have to watch everything.
Rod: What are you self-conscious of? You look great. But every model I know always says that.
Ty Lattimore: Thanks, but in this business people feel very free to critique you, your dick, your ass, your body hair, your haircut, your beard—people are a trip.
Rod: Everyone's a critic. But speaking of the body hair, you get rave reviews for yours. It definitely sets you apart.
Ty Lattimore: (lol) I am a hairy man and I like it. I think it makes me different. My stats are 5'10, 185 lbs, 34 waist, muscular, hairy, black hair, bald fade, 5 tatoos, nipples pierced,
and ... 9 inches cut. After nine years folks are still interested. Who would have thought I'd still be doing this? But I was never on every box cover or in over 100 videos. I don't want to be overexposed, so take breaks here and there. This industry can burn you out. And I'm busy doing other things.
Rod: How is the industry different today ... than 9yrs ago?
Ty Lattimore: It's not much different, but amateur companies are more popular than the larger ones. Many smaller companies are popping up and finding their niche: barebacking, interracial, fisting, "straight boys", etc.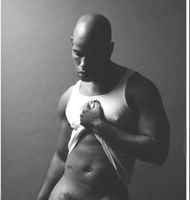 Rod: In some ways, I think today's porn is much better than the early or mid 90s.
Ty Lattimore: I like the old and new. I think customers prefer to see more guy-next-door types than the cut up model, since most of them know they will probably never meet a guy like that. I loved Ty Jones, Ethan Alexander, and those guys. Of the new guys, JC Carter and Kamrun are the two most underrated.
Rod: What a coincidence. JC and I lived in the same apartment building in Chicago. And I spoke with Kamrun earlier today.
Ty Lattimore: (lol) Turning to directing, I admire Enrique Cruz and Michael Lucas.
Rod: There's a raw quality with Enrique and Michel's movies that I love. You're producing and directing now. Are you going for that?
Ty Lattimore: I started producing and directing in November. I always wanted to get behind the camera and figured that I knew as much as most of these guys with a camera. It's more longevity and more control over my image and vision.
Rod: That was the concept behind
Ty Lattimore Entertainment
?
Ty Lattimore: I wanted to do something to put Atlanta on the map. Not every video needs to be shot in LA or NY or Miami. The first video is out,
A Little Off the Top
. It's all new guys. Ryan Dickson, Robert McVee, Tank, Chicago and myself.
Rod: It seems like the response has been great.
Ty Lattimore: Folks have been very supportive. They like the idea that it happens in a real barbershop. If you're interested in buying the movie, go to
AMVC.com
. Also,
Pornteam.com
. The next one will be called
Dial A Freak.
It's about escorts.
Rod: How do you feel about the pay inequities between white and black porn?
Ty Lattimore: It's terrible and that is one of the reasons I get frustrated. In the long run, I will make more off the two movies I have produced so far, than I ever did from being a model.
Rod: How big is the difference, would say? Give me an example. Let's say you were white. How much more could you command per scene?
Ty Lattimore: I could command another thousand easily. But that's also why you have to start your own stuff and change the rules. I never made most of my income from videos so it really was not that important. But those who control the project, control the money. I'm trying to be the P Diddy of black gay porn.
Rod: In your work you come across as very passionate. Behind closed doors, are you much different than what we've seen?
Ty Lattimore: Thats what makes me unique, I am exactly as I appear on screen. Sensual, passionate, and horny. That is really me. It doesn't comes across as fake because I am not an actor. I like body contact and kissing. What you see is the real Ty.
Rod: I have to ask this, you have never bottomed on-screen. Deliberate choice? Money's not right? Not something you want to do?
Ty Lattimore: I do not bottom on screen or off. Money would not matter. It's not my thing. Many models are marketed as tops and then its news when they bottom. Not me.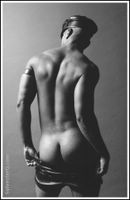 Rod: You and I both know a lot of models who always 'top' on screen, but it's just the opposite in real life.
Ty Lattimore: Okay? But once again, I am not an actor.
Rod: How do you handle being recognized? Especially after the
Lloyd Banks incident
?
Ty Lattimore: Well dudes approach you everywhere here. Whats is freaky is when the lesbians recognize you, lol. Now that was strange. Now some of the straight folks do, from the Banks thing.
Rod: Let's talk about that. Did it hurt you? Or was the pulicity helpful?
Ty Lattimore: That was a nightmare and a time I will be happy to forget. I never needed that kinda of publicity. I had no idea how or why a rumor like that started. I don't think he and I look alike. We have similar shaped faces, that's it.
Rod: You and Banks don't favor. Your lips are similar, maybe. Did Wendy Williams start that rumor? She's good for throwing rumors around.
Ty Lattimore: I don't know. Anyone familiar with porn knew it was me. Only straight folks had it confused. It was a mess.
Rod: Lloyd Banks thanked you for setting the
record straight
. Did you see the interview in
All Hip Hop News
?
Ty Lattimore: No, I missed it. His camp never approached me. But that's a good thing. As I said, I never needed that type of publicity. If anything, it boosted his career. He probably has a huge gay fan base now.
:p
To order
A Little Off the Top
: Go to
AMVC.com
or
Pornteam.com
.
Ty Lattimore's Fan Club:
Ty Lattimore Party
Yahoo Group.
To contact Ty personally: Join
Ty Lattimore Party
Yahoo Group.