Planet of the Fakes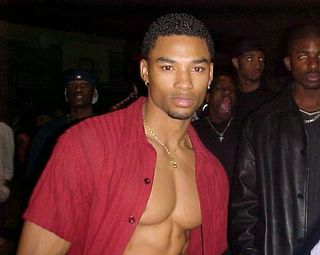 Breaking news: Shady Queens across the internet have accomplished what leading scientists cannot.
They have successfully
cloned human beings
—especially the phiner ones.
Yesterday, "_______" from Birmingham sent me this pic. Stunning, isn't he? The only problem: I know this guy, and he's neither gay nor from 'Bama. He's a professional model, and
queens
brothaz have hijacked the same picture for years.
[Just to set the record straight, T commutes between Miami, NYC and Chicago. He was a former NCAA hoops phenom, and is signed to a top modeling agency. T can be seen in a current print ad for
Nissan
. Below is a pic from his portfolio. He is very straight.]
During 2001 and 2002, at least four screen names on
Black Planet
used this same picture. Apparently, "he" lived in Philly, DC, Atlanta and Texas; described himself as 5'9 to 6'3, sometimes straight, sometimes single, other times
lookin
'. The next year, in 2003, several Migente accounts featured the same pic. Gradually, the pic migrated across the cybersphere, where it is currently hosted on at least two
ebonymale
accounts, and on men4now.
To call pic-stealing 'common' would be an understatement. It's
pervasive
. Phony pics and identities are par for the course with gay men over the 'net. It's so widespread across Black Planet that many of my friends have called BP "planet of the fakes", and have stayed away. AOL and Migente are much the same.
It's e-z to spot the fakes. First, the perpetrators usually have only one picture. Second, they always steal over-the-top pictures . You'll never see a regular looking brotha, or the boy next door. That would be too sensible.
Instead, the men are always supa-phine, shirtless, and look like actors, models, strippers or porn stars. In fact, they usually
are
actors, models, strippers or porn stars. Their admirers are so
dense
naïve, they incorrectly assume no one IRL (in real life) knows these men. (Let's not even discuss
headless or torso shots
. They're as phony as a
three-dollar bill
.) And the
fine sistahz
…forgetaboutit. They're ready to file class-action lawsuits.
My favorite story: Last year, one brotha in Akron downloaded pictures of his favorite papi from
Latino Fan Club
. One morning, he shot them over to me. "
I'm black and Puerto Rican
," he IM'd me. "
Here are my pics
." The boy in the pictures was blatino, but he wasn't in Ohio. He had just spent the night at my apartment. At that moment, he was probably on the
E train
headed home to Jamaica, Queens.
[Memo to _____ and _____ in Akron, Bama and other flyovers. NEVER send pictures like these to any gym boy in ATL, DC, LA, Miami or NYC. When men look like this, we make it our business to know them—or find someone who does. And please don't send porn star pics. We see those guys on the street, at the grocery store, the clubs or the gym. Or know them/been with them. Please.]
Models—regardless if their clothes are on or off—are accustomed to fans and stalkers. Most laugh off the 'net fakes. After all, it's just a by-product of their work. But what if you're not a pro and had your pictures hijacked? It's much harder to set the record straight.
Case in point: My best friend lives in Atlanta, and just experienced a messy identity theft. Some
trifling queen
brotha hijacked his old pictures from BP, and posted them on several hook-up sites. The accompanying personal ad was—to say the least—graphic. Unfortunately, my buddy was involved at the time. His boyfriend's
messy
friends saw the ads, one thing lead to another, yada yada yada. You know the rest of the story.
Brothaz, please. If you don't have pics, just say it. But this is getting out of hand. Silly
queens
rabbits: tricks are for kids.