Soundbytes: The Thrill is Gone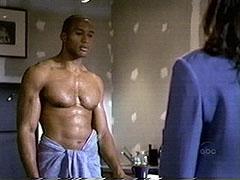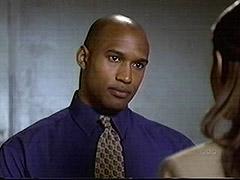 Henry Simmons and NYPD Blue: Catch it while it lasts.
[Captures via Da DL Crib]
If you're a
Henry Simmons
fan—and who isn't?—listen up. Images
like these
are about to disappear from prime time television. On March 1, ABC will pull
NYPD Blue
from its lineup.
After 12 seasons, the 'net is retiring the well-decorated detectives at the 15th Precinct.
Blue
debuted in September 1993, and the series earned 27 Emmy nominations during it's first season. Since then, it's received an astounding 82 Emmy nominations, and
has won 20
.
Producer
Steven Bochco
said if he had tried to launch
NYPD Blue
today instead of '93, he never could have gotten it off the ground. "The medium has become increasingly conservative," he told television critics attending their
annual winter tour
in Los Angeles. "I don't think today we could launch or sell a show like
NYPD Blue
." After
Janet Jackson
's "wardrobe malfunction" during last year's Super Bowl halftime show telecast on CBS, he says
Blue
has had to fight with ABC over content that was
never questioned before
.
Originally, Bochco hoped the show's success would pave the way for more sophisticated drama. But just the opposite has happened. The airwaves have become cluttered with
lame
reality fare, and
fluffy
scripted shows like
The OC
, and
Desperate Housewives
.
Many long-time Blue aficionados—myself included—are not surprised by the cancellation. In the past six years, the show has faltered since Jimmy Smits' character—Detective Bobby Simone—was killed. There's been a revolving cast, and the writing has lost its punch.
But lucky for us, the show has survived and we've been treated to these weekly yummy images of
Henry Simmons
on Tuesday nights. In less than two weeks, it'll be twice as nice: besides being seen Tuesdays on
Blue
, you can catch the hottie in HBO's
Lackawanna Blues
. The movie boasts an all-star cast, including
S. Epatha Merkerson, Mos Def, Louis Gossett, Jr., Macy Gray
...and
NYPD Blue
alum Jimmy Smits.
NYPD Blue
(ABC) Tuesdays 10/9c. Rerun daily on
TNT
.
Check listings
.