The L-Word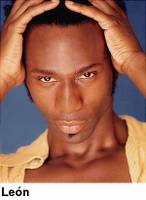 I've always admired
Leon
.
He was hardcore in
Oz
and
Cliffhanger.
In
The Five Heartbeats
and
The Temptations,
Leon showed us that he could carry a tune. Tonight, catch more singing and dancing in
Little Richard
. The 2000 MFTV movie was directed by Robert Townsend, and costars Jennifer Lewis, Tamala Jones and Carl Lumbly.
I was lucky enough to meet Leon twice. First, when he made
Cool Runnings
, I interviewed him in Chicago for
Fox News
. Years later in New York, I saw him a few times on the
Oz
set. (I was dating a one of the costars, but that's a different story.)
Little Richard
airs tonight at 8/est on BET.
And in case you haven't seen it yet, Leon has his own show on the same network. The
L-Bow Room
is light, funny and relationship-oriented. He's able to carry the show and lead his guests. I've worked on two or three talk shows before (no names, please, I've put it behind me), and trust me, it's hard work. The show is Thursdays at 11:3o/est. The time slot sucks: most of his audience is going to bed, and what's the point in trying to compete with Letterman and Leno? Let's watch and wish it the best.